Growing up in a quilting family, I was surrounded by quilts. As a voracious reader, I loved learning the stories behind each one. Every decision quilters make, from pattern to fabric, is a piece of our story. The Baby Lock Lyric is the perfect machine to help me write my own quilt stories, each one with its own melody.
The Lyric makes it easy to achieve a precise ¼ stitch, and the variety of stitches helps me customize my quilt down to the last detail. When I'm helping others learn to piece their stories, the Lyric is in perfect pitch. An advanced needle threader and quick-set bobbin give beginners the confidence to become quilters-and storytellers-too.


LCD SCREEN
See your stitch settings directly on the LCD Screen. You'll always know which stitch type and size you're using.
PUSH BUTTON FEATURES
Change needle positions, raise and lower the presser foot, cut thread, start and stop sewing and more - all with the touch of a button.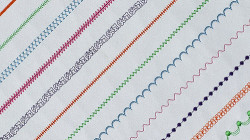 250 BUILT-IN STITCHES
With 250 built-in stitches, you'll have many creative options. From numerous utility stitches to decorative ones, you'll find something for every project.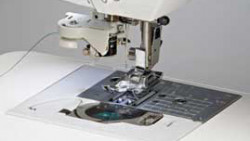 ADVANCED NEEDLE THREADER
With just a few simple motions, your needle is threaded and ready to use.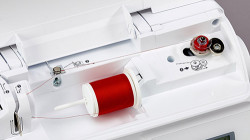 QUICK-SET BOBBIN WINDER
The winder seat holds the thread in place and stops automatically when the bobbin is full.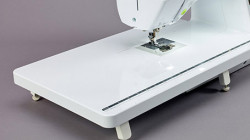 QUILTING EXTENSION TABLE
Increase your sewing surface and provide extra support for larger projects. Table measures 12-5/8" x 20-3/4".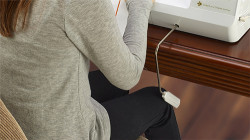 KNEE LIFT
Keep your hands free for more sewing control by using the knee lift to raise your presser foot.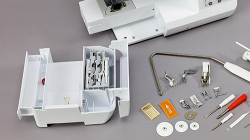 BUILT-IN ACCESSORY STORAGE
The Lyric comes with a built-in accessory case holding 14 extra feet and helpful tools for all types of projects.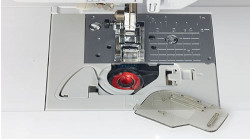 QUICK-SET, TOP-LOADING BOBBIN
When you're ready to sew, simply drop a bobbin in and go.